Translated from Russian.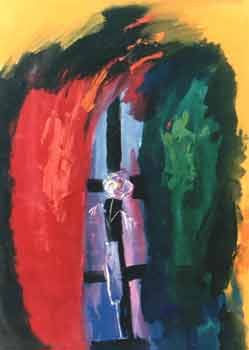 The sketch to a picture " Court goes " 1966, distemper/paper, 60х40 cm.
Alexander Borshchagovsky,
The playwrighter, the publicist
"Ogonjok", 22, May 1990, Moscow
Where there will be walls for pictures?
In 1970, shortly before death, 58 year old Pjotr Valius has found, at last, temporary restless walls for his canvases. Poor, basement walls in bowels of the Moscow ground, they have got to him by accident: people can not live here any more. The walls were repaired by hands of the son, Valery, and his friends, the walls - the happiness though to the sick, doomed artist only once it was possible to go down on abrupt steps in the studio, to enter in saving for the creator crowd of the spectators, who filled both "exhibition" rooms and a corridor between them. He was brought at home soon, in 5 floor apartment house, in two small living room where to remove from a canvas plainly was no place …
There were miserable gifts of fate earlier: a three-day exhibition in 1968 in A.N.Nesmejanov's Institute and ten-day one in institute of a name V.Kurchatov in the same year. In the black annals of prosecutions of the independent artists, continued decades, these were vital saving islands of understanding and solidarity of intellectuals - "physicists", the technicians stood on the ground is stronger, than singles-artists, pursue as from the party leader, and official art criticism idea - I would name it "Kemenov idea" - and from a management of the creative Union.
Both exhibitions - guerrilla, in an atmosphere of fear, that the first terrible phone call will break an exposition from walls. But another is memorable also: our amazement, when tens the works before seen separately, almost end-to-end and without necessary space between, when its have suddenly flied up on spacious walls, exposed as atoms of one integral art world.
At an exhibition opened in December, 1970 in basement "halls" of an apartment house on a lane of N.Ostrovsky, tens distempers of Valius were shown in a sluggish sequence on a lectern. Here it was possible for the first time to comprehend and scales his talent. Something prevents me to name his distempers - sheets with the images of flowers - still-lifes, traditional definition of a genre does not suit to these picturesque sheets, dramatic, musical, furious, gentle. It is possible to rearrange them on a lectern tens and hundred times - satiation will not come, and there will be no full solution of secret of these sheets.
I would name an atmosphere of that exhibition preceding a storm. A waste space, hidden somewhere in lanes, "side scenes" of old Moscow, was given for a studio to the unknown artist - and mountain from shoulders! Let him write to himself and accept rare friends. And them it has appeared - thousands. The waste cellar became a place of pilgrimage. In winter days 1971 up to two hundred the person in day went down on worn-out stone steps, and it is a lot of: the people notified not by a press, not radio, but a kind rumor, were hold long at pictures of Valius, here was no jog trot so habitual in our time for museums.
The artist has given the perusal of many eternal themes of the century. His " Suzdal. Silence" - a pure image of sanctity and the rest, fill of grief and concentration. His "The tenth circle " - a fascinating metaphor of social cataclysms, with buried in depths of the matter in images Dante and Einstein. His "Crucifixion" ("Abandoned") is turned over - in hung, as if a figure flying headfirst - the supreme degree of suffering and self-sacrifice. His "Inquisition" ominous connection and contrast of blood-red, green and violet colors, gloomy dullness of giant stone-heavy figures - just about they will compress and crush both a lancet aperture and a white submissively-sacrificial figure (the picture has been written to a year when there was a process above Sinjavsky and Daniel).
The pilgrimage of spectators in Peter Valius's basement studio has disturbed the persons who control culture and not only it. Caution has followed to truncate an exhibition, to limit it to one day in a week, to remember, that the whole three western embassies are nearby located, that inhabitants of the house do not like a crowd, complaints have already arrived from them.
And there were currents of understanding and gratitude to Valius from there, from a cellar, cares of relatives , and later letters, when Peter Adamovich already had no forces on telephone conversation. But here is a miracle of a life and a miracle of art: the telephone tube is too heavy for a hand already, but the same hand hours tirelessly works with a brush! It is less than for two months Valius creates nine big picturesque canvases: he worked, as always, quickly, furiously - and among its is such significant, as "Loss" or " About those, who remains ".
How happens, what the strong, gentle and kind talent remained in a shadow during lifetime of and today still has not received a worthy recognition? To omnipotent "academists", creators illustrative, affable canvases were alien virtuosity of Valius, his color magic, the world of his brilliant metaphors, and for noisy, earlier pursued avant guarde Valius is too mild and harmonious. But, perhaps, nobody has prevented lifetime popularity of artist Valius so, as hemself, his unmeasured person, full, discouraging absence of a practicality, his hypertrophied modesty.
Pjotr Valius has not adjoined, does not adjoin now - with destiny, sense and secrets of the canvases - one of the currents of recognized, fashionable or pursued. There was no reliable wall to support him njt from behind, but to support a shoulder, to feel support of the developed circle of artists.
The history of a life of Pjotr Adamovich with love and thin knowledge of painting, art is told in the novel of his wife Anna Valtseva " The happy person ". The name of the novel is accurate contrary to all tests and so early stopped life of Valius. Pjotr Valius was happy from creativity and drove from himself everything, that attempted to intrude between him and painting. The engineer-builder who has born in Moscow in 1912 and only by 36 years managed entirely to be given to work as artist, he for a quarter of a century has managed to realize himself, and in fact for many others does not suffice for it longevity of Mafusail!
Exhibitions of works of Valius are inadmissibly rare. But when they happen, as it was in May 1985 in the Central House of writers in Moscow or in February 1988 in Kazan, interest to them is great.
The part of pictures of P.Valius since 1977 is in Munich. They were taken out by the son of the artist, Valery Petrovich, having despaired because, because in the native land there are no walls for pictures. And the western criticism fairly wrote, that these pictures - " the concentrated testimony of modern Russia and a part of universal art ". However their destiny and there is dramatic. Valery Valjus, on own recognition, " has no moral right to sell out a heritage on private collections", and commercial galleries, as a rule, are interested in exhibitions under condition of sale of works.
Really, there will be no walls at us for restless wanderers-pictures?