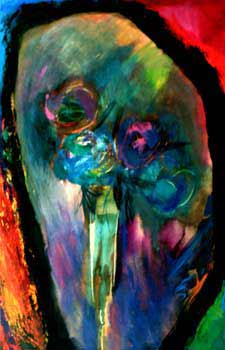 Flowers in a mirror, 1970, distemper/paper, 60х40 cm.

Translated from Russian.
A.V.Tshekin-Krotova, the teacher of German language, the widow of artist R.Falk" Evening Kazan ",
On February, 26th, 1988
Talent, belief and courage
The exhibition of Moscow artist Peter Valius is opened in the Museum of fine arts ТАSSR and it has great success at citizens of Kazan . In the visitors' book already there are many warm, joyful-surprised and grateful records. During excursions constantly there are questions on the person and destiny of the artist. In this connection we bring to attention of readers " Evening Kazan " fragments from memoirs of the widow of artist R.Falk A.V.Tshekin-Krotova, which she has written under our request.
I have met artist Pjotr Adamovich Valius and his wife, writer Anna Valtseva in 1970. We had common friends in the environment of the physicists, who have been keen by bright and passionate painting of the artist, an acuteness and boldness of his compositions in which he solved global problems of our time. To whom as not to physicists are clear and close the alarm and a pain for destiny of mankind in extreme conditions of the modern civilization, read in canvases of Valius.
Burning scarlet, fiery yellow - colors of a life, they won terrible black shadows, a cold dark blue, indifference of grey tones. It was modern and urgent, alarming, exciting.
Short "thawing weather" of 60th years has opened artists whose works could not be seen at official exhibitions.
In museums began to appear, shy creeping out from dark store rooms, pictures of the forgotten painters of the beginning of a century. So has arisen almost from nonexistence shortly before that died Falk. And first personal exhibitions Valius have opened in 1968 in institutes of Nesmeyanov and Kurtchatov.
I have liked both Valiuses very much from first minute of our acquaintance: the intelligent, open, sincere and benevolent people. And courageous. I have immediately invited them to come to me in a studio where we have lived with Falk 20 years - from 1938 up to 1958 and where I still lived some years more, putting in order his heritage and archives.
Pjotr Adamovich was heavy operated in the spring of 1970, but was very collected, pulled up. He was high, in an youthful way harmonious, beautiful. (So I imagined knights in the childhood under impression of Walter Skott's novels).
All was interesting to Valiuses: both pictures, and my stories about destiny of Falk, about his dreams, plans, principles of work, about his favourite masters. In ascetic conditions of our dwelling Peter Adamovich felt as at home. Anna Vitaljevna has informed, that he receives at last a studio, just in our area (we lived on riverbank at Kropotkinskaja gate, and studio of Valius was in Ostrovsky's lane, between Kropotkinskaja street and Arbat).
In the summer doctors urgently recommended Peter Adamovich rest on fresh air. Spouses have left till the autumn for village, and their son has remained in Moscow and has occupied in repair of the future workshop.
Older Valiuses have returned to city. But Pjotr Adamovich - alas! - was still very weak.
And here have affected surprising resistance and unshakable optimism of Anna Vitaljevna. " While Pjetja has not recovered finally, we shall open his exhibition ourselves! " - she has solved.
Pictures, folders with distempers and drawings were transported. Pictures were hanged out on walls of rooms and a long corridor. For display of distempers and drawings was installed a low little table with a lectern. Strong benches were hammered together from thick boards on billet of wood. The auditorium on 50 places was turned out!
Was appointed day of opening - Saturday.
There were no neither posters, nor invitation cards, announcements by radio. The exhibition in fact was opened "autocratically"! And still since the morning the set of people was there. Spectators perambulated on rooms, for a long time stiffened before canvases. There were no loud conversations, only silently whispered.
Anna Vitaljevna has invited wishing to listen to her explanations. Inspiredly told about creativity of the artist, about his plans, process of work. And then the son has brought folders, began to take out one for other distempers …
If oil pictures were dramatic, at times tragic, distempers can be named more likely lyrical. But also they caused excitement and alarm the musicality: that will sound a major chord will flash a flame of a red bouquet on dark, as night, a background the silent and gentle nocturne in a blue and lilac fog of color…
The artist here has stayed not for long - to him such unexpected invasion was not on forces. He was brought home. And more he did not happen to be in the studio. But exhibitions by Saturdays proceeded still long.
I have visited Pjotr Adamovich at his place, in cosy small apartment of Valius. He daily, overcoming illness, rised to an easel and finished or altered the pictures. He painted always very quickly, even promptly. For two hours he could write a huge canvas, an one and a half on two meters. His last pictures are laconic, strict and very tragic.
Pjotr Adamovich has met me with a kind smile and, not being interested in impressions about the works, began ask greedy again about Falk. At me heart has trembled when he has asked how Falk grounded the canvases that they could maintain his multilayered pastose texture. " Really he still hopes to rise on foots and to begin this infernal work? " - I thought.
Pjotr Adamovich has died in some months after that "autocratic" exhibition. How many has it brought consolations to him, how brightened up the end of a life!
On a cemetery of the Don monastery, where his tomb, is the beautiful monument modeled and cast by his friend, artist Dodonov. The monument promptly grows from the ground, as a bright flower on a thin stalk: in a stone the color ceramics is soldered in. At its bottom - always flowers.
Studio of Valius with an exhibition has existed after his death more as four years. In the evenings poets and actors gathered there, read verses. There was a lot of music - someone has carried here old, but still a suitable grand piano. Here Anna Vitaljevna read aloud to us the first chapter of the novel "The happy person", devoted to memories of the husband. It was possible to her, in my opinion, not only to recreate the biography of the artist, but also his environment, his time.
And Peter Valjus's exhibition is here now in Kazan. I think it is significant event. Recently, in 1987 there has taken place Robert Falk's exhibition.
Among citizens of Kazan Valius had a lot of friends.
He happened to be here earlier, and citizens of Kazan, in turn, visited his studio. So this meeting for many - not the first. And the more so joyful.