Translated from German. To see the text in language of the original, click here.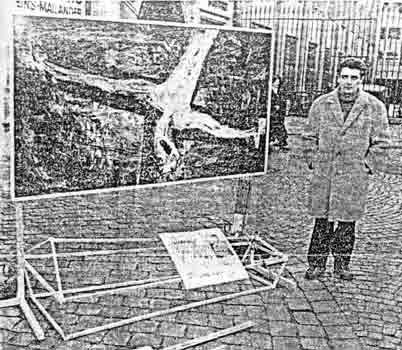 Valery Valius: a place for pictures of the father. A photo: Kraufmann
Peter Wolff

The Stuttgart cultural life, 39, 1980
Pictures of the Russian artist
For the father on street
Model of a coffin from bars which are decorated with a white pinks, a portrait of the father and the canvas painted by oil "Crucifixion": thus son Valery Valius has given a tribute to father Pjotr Valius on his ninth year from the date of death, publicly, in the Palace square. Nothing sensational, nothing from gamble. Only desire to give due memories. And for passers-by a unexpected meeting with history. Pjotr Valius was born in 1912 in Moscow. Parents have insisted on purchase of a practical trade. Study in Architecturally-building and work as the engineer on construction of power stations and mines dominated only a few years above independent studying of painting. In 1947 he leaves engineering, devotes himself only to the fine arts. Book illustrations and design of covers enable to earn for a life. Only in 1963 for the first time he has own room for painting. He preceded movement of nonconformists a little, however did not belong to any grouping though was friends of several artists of these directions. He had no official exhibitions.
In 1977 son has emigrated with the basic works to the Vena, then to Stuttgart; mother, the writer, in Moscow keeps the others. Here in the West he has found out, that galleries are interested only on sale, and museums wish to accept active participation only in works of known artists. However not sale is the purpose of the son, and an opportunity of constant access to them of spectators. Such he sees destination of this art which defines as "a part of culture of mankind", leaves on street - as gesture to address of the public - to honor works of the father.